What photoinitiator options are available for LED UV curing if TOP was banned?
Release Time: 2022-03-29 Collection | Return
European light curable paint ink industry came out in the first half of this year, the photoinitiator TPO is likely to be reclassified by the European Union ECHA as the reproductive toxicity 1B material in CMR. Moreover, TPO was highlighted as a possible reclassification in the 2020-2022 Draft Community Rolling Action (CoRAP) published by the ECHA on 23 October 2019. If this classification change becomes a reality, it could mean that TPO will be banned or restricted in many applications. The news caused considerable consternation in the industry because photoinitiator TPO is a widely used photoinitiator in photocuring formulations. And because of its long absorption wavelength, it is the most popular photoinitiator used in UV curing of LED. At the same time, there are rumors that this is a big company in the industry in order to promote its alternative photoinitiator products, and led the promotion of an artificial barrier "conspiracy".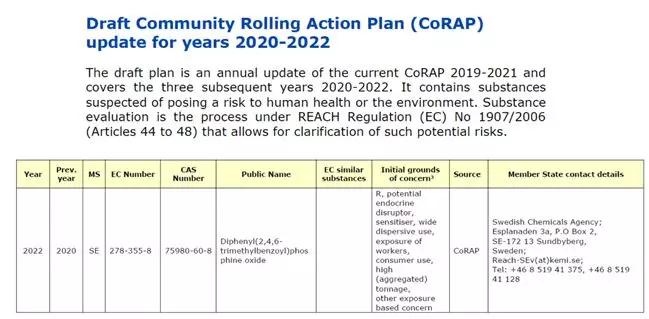 Photoinitiator is an important part of the photocuring formula, although the proportion in the formula is usually not high, but it is indispensable. Compared with the oligomer in the formulation, the molecular weight of the photoinitiator is relatively small; Unlike monomers, another important ingredient in the formulation, photoinitiators are not usually cured and crosslinked into the system. In addition, due to the incomplete photolysis of the photocuring reaction and the small molecules produced by the cracking of the photoinitiator, photoinitiator has become an important source of harm to human health and food safety in the photocuring formula.
The use of CMR 1B photoinitiators is very limited and can be banned in many products, especially those related to food and close contact with human body.

It is hoped that the upcoming crisis of TPO prohibition and restriction will also become a driving force for the more benign development of the light curing industry.
For the production and use of photoinitiators, as well as supporting suppliers and downstream enterprises, this is indeed a challenge that must be faced, and relevant parties need to make corresponding preparations in advance.